Durational reading of Jon Refsdal Moe's debut novel Rant 1 (2017: Fanfare) with musical score by Nils Erga (Burning Axis, ex-Noxagt) and visuals by Ruiner.
22. September @ 19.30   (in cooperation with Kapittel Literature Festival)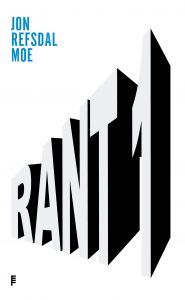 Audience is free to come and go during the evening long event in which Jon Refsdal Moe will read his novel 'Rant 1' in its entirety backed by a musical score from Nils Erga and visuals by ruiner.
Free but donations welcome, 50 NOK suggested.
http://fanfare.as/utgivelse/rant-1/

 Excerpts:
"Og tro ikke at jeg ikke spør meg selv om hva som er poenget, jeg spør ikke meg selv om annet, jeg spør om det når jeg våkner om morgenen og når jeg står i dusjen og når jeg pusser tenner, og når jeg spiser frokost og når jeg får stempla kaffekortet mitt i baren på Supreme, jeg spør meg selv foran speilet med hårbørsten som antagonist, jeg speiler meg i skjermbildet på telefonen og spør hva som er poenget, og jeg tror faktisk at det finnes et poeng et sted, jeg tror det er på tide å gjenoppta ideologikritikken som universitetene støtte fra seg da de innledet sitt nye kjærlighetsforhold med formålsrasjonaliteten,som politikerne støter fra seg fordi de ikke skjønner hva vi snakker om allikevel, og som institusjonene støter fra seg i samme øyeblikk som den truer deres fortsatte beståen, og det gjør den jo, poenget med kritikk er at den truer det bestående.»
'Rant 1' snuck into the list of best sellers at Tronsmo Bookstore in Oslo in 2017.