Oleg Soulimenko with Alfredo Barsuglia and Jasmin Hoffer
LOSS
2. November @ 20.30
3. November @ 19.00
Part of 'Unwritten Conversations' artist curated series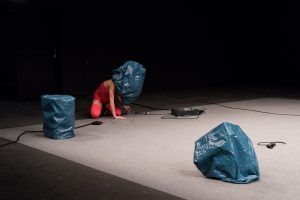 In his new piece, Vienna-based choreographer-performance artist Oleg Soulimenko joins forces with visual artist Alfredo Barsuglia and dancer Jasmin Hoffer to explore the topic of instability and loss of security. LOSS is about value shifts and the unpredictability of what we believe is real. How does our perception change when the surreal pulls the rug out from under our feet?
For their piece LOSS, Soulimenko, Barsuglia and Hoffer build an uncannily unknown sculptural landscape, where they topple ostensible truths, dissolving the limits between what is organic and what is immaterial. Thus, acoustics suddenly become visible while air turns into matter and light manifests itself.
A trio generates uncanny rustling, bringing forth hidden revelations and inflated sculptures, knowing that every moment passed disappears into the underworld of interpretation. The choreographers, Oleg Soulimenko and Jasmin Hoffer, and artist Alfredo Barsuglia meet in these moments where communication hinders understanding, falling into the traps, tarps, tunnels of failed communication. In these unstable realities of perception all life seems risky, and LOSS proves this point both with irony and all seriousness. It's not a nightmare, but keeps you on your toes until the very end.
Credits:
Choreography, objects and performance: Alfredo Barsuglia, Jasmin Hoffer and Oleg Soulimenko
Concept: Oleg Soulimenko
Dramaturgical consultation:  Katalin Erdödi
Costume: Lise Lendais
Music: dieb13
Light: Sabine Wiesenbauer
A co-production by Vienna Magic/Oleg Soulimenko and brut Wien. With the kind support of the City of Vienna's Department of Cultural Affairs and in collaboration with the residency program of PACT Zollverein and ttp WUK.