elsewhere & elsewhen av Heine Avdal & Yukiko Shinozaki – fieldworks (NO/JP/BE) @ 13.00-13.30 (*varighet 0.5 timer)
Time has fallen asleep in the afternoon sunshine av Mette Edvardsen (NO) @ 13.00-16.00 (*varighet 1 time per bok, 3 forskjellige bøker samtidig)
AbsenceAbsence av Agnes Btffn (NO/FR) @ 14.00-15.30 (*varighet 1.5 time)
Circularity in Action II – (work in progress) av Pål Asle Pettersen(NO) @ 14.00-16:00
En lys sommers usigelige smerte – av Mette Edvardsen (NO) @ 16.30-17.10 (*varighet 30-40 minutter)
Again the Sunset av Inga Huld Hákonardóttir and Yann Leguay (IS/BE) @ 19.00-20.00 (*varighet 40-50 minutter)
concert with Jessica Moss (CA) @ 20.30-21:30
iteration (((((((((OO))))))))) av Sandsmark//Findlay m/Warren (NO/US) @ 22.00-22.45 (*varighet 0.75 timer)
+ workshop: Morning Movement med Melinda Jean Myers (US) @ 10.00-11.00 (*varighet 1 time)
---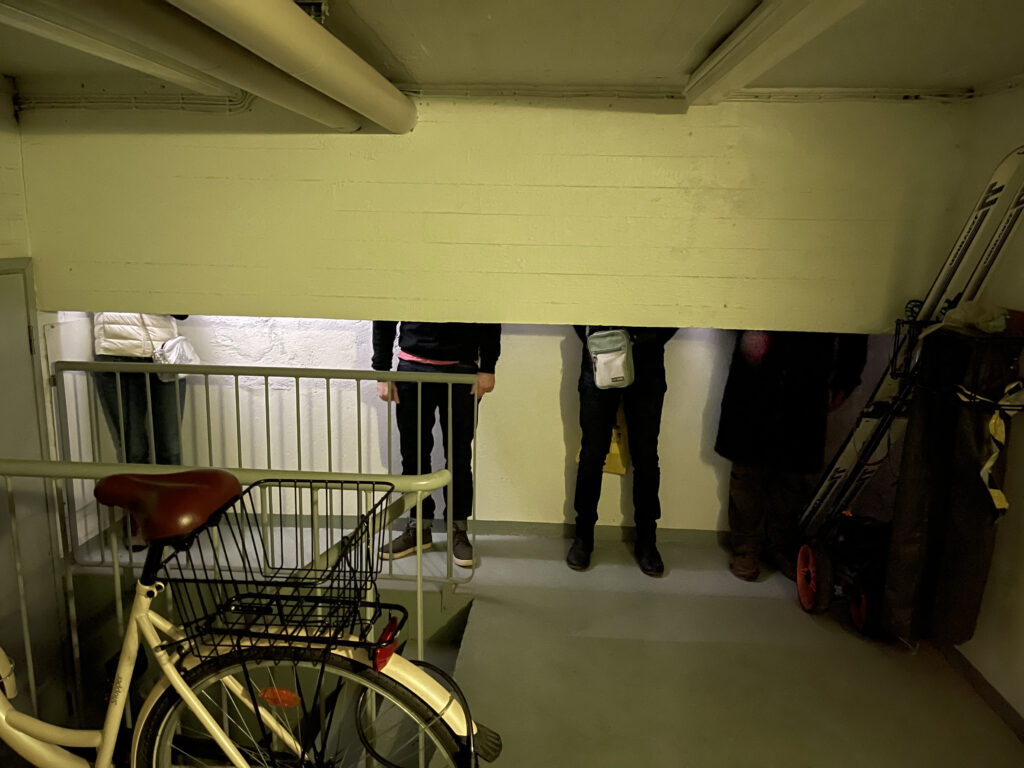 elsewhere & elsewhen
fieldworks – Heine Avdal and Yukiko Shinozaki (NO/JP/BE)
The process of this project consists of a series of discussions and improvisations. Video will be part of this both as documentation and as an artistic product in itself. We propose that the successive processes and interventions spin around the terminology "folding and unfolding" in public space. And that this will unfold over several seasons in different types of landscapes in the period 2023 – Oct 31st 2024.
Each work period results in a presentation, which graft on and reflect on the "landscape", both in the meaning of our society – and the urgent social, economic and ecological issues we are confronted with today – and in the meaning of the concrete locations where these presentations take place: both conventional and unexpected places, in a (major) urban or rural context.
The title of the project also refers to the reflection on our own "state of the art",
our own artistic trajectories and choreographic practice. How do we see the dance landscape/art landscape in relation to public space?
(Self) reflection is an important part of our artistic work in order to understand the impact of performing arts in a public space.
How can we compare or differentiate from other art forms present in public space?
Our projects are often developed and presented in different types of locations. Each location results in its own unique work process and specific interaction with the public. Location-specific projects are often initially conceived for a small group of spectators. Gradually, a project can increase in size, and we also develop and present it in larger formats and on a larger scale so that it can also reach a larger audience.
CREDITS
Dancer: Valerio Palladino
Chorographer/dancer: Gennaro Lauro
Chorographer/dancer: Elisa Sbaragli
Video: Rebecca Leena
Chorographer/dancer: Yukiko Shinozaki
Chorographer/dancer: Heine Avdal
Produced by: Avdal Produksjoner, fieldworks vzw
Co-produced by: RIMI/IMIR Scenekunst (RISK), Fondazione Fabbrica Europa, PARC Performing Arts Research Centre with the support of: Norsk Kulturråd, Vlaamse Overheid, Minestero della Cultura – Direzione Generale Spettacolo, CRISOL
---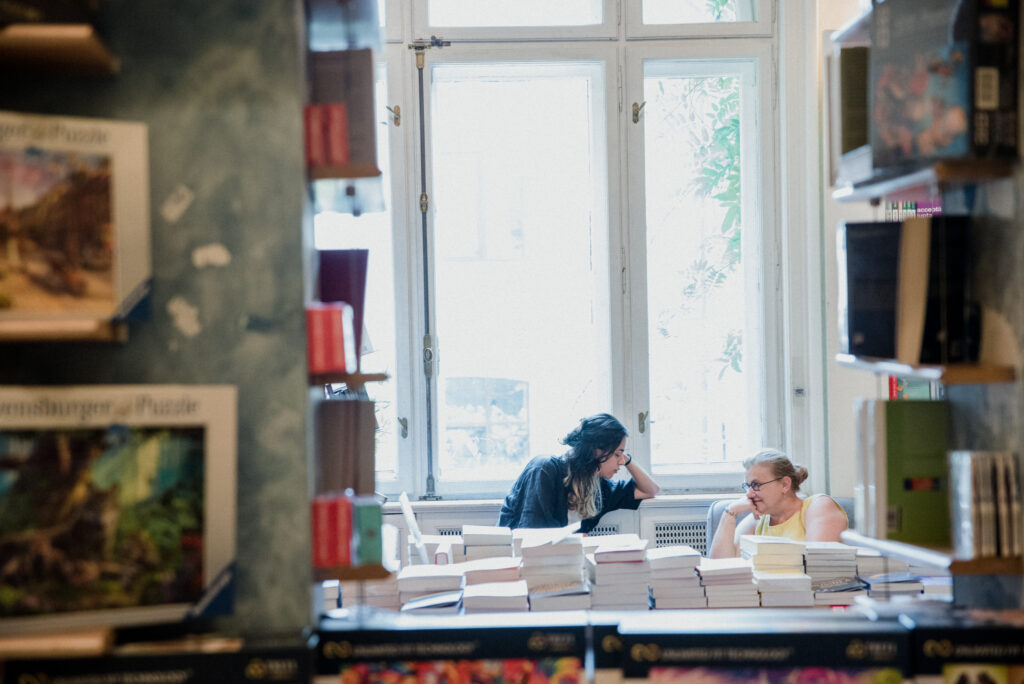 Time has fallen asleep in the afternoon sunshine
av Mette Edvardsen (NO)
For 'Time has fallen asleep in the afternoon sunshine' a group of people/ performers memorize a book of their choice. Together they form a library collection consisting of living books. The books are passing their time in a library, sitting in chairs, walking around, talking together, looking out of the window, reading in paper-books from the shelves, ready to be consulted by a visitor. The visitors of the library choose a book they would like to read, and the book brings its reader to a place or setting in the library, in the cafeteria, or for a walk outside, while reciting its content (and possibly valid interpretations).

The idea for this library of living books comes from the science fiction novel Fahrenheit 451. It is a future vision of a society where books are forbidden because they are considered dangerous, that happiness must be obtained through an absence of knowledge and individual thought. The number 451 refers to the temperature at which book paper starts to burn. As books are forbidden in this society an underground community of people learn books by heart in order to preserve them for the future.

Books are read to remember and written to forget. To memorize a book, or more poetically 'to learn a book by heart', is in a way a rewriting of that book. In the process of memorizing, the reader for a moment steps into the place of the writer, or rather he / she is becoming the book. Maybe the ability to learn a whole book by heart is relative to what book you choose, the time you invest, and perhaps your skills. But, however much or well you learn something by heart you have to keep practicing it otherwise you will forget it again. Perhaps by the time you reach the end you will have forgotten the beginning. Learning a book by heart is an ongoing activity and doing. There is nothing final or material to achieve, the practice of learning a book by heart is a continuous process of remembering and forgetting.
CREDITS
concept: Mette Edvardsen
with: Marit Ødegaard, Mette Edvardsen, Siriol Joyner
books at Flørli: Beloved – Toni Morrison, Elskeren – Marguerite Duras, I Am a Cat – Sōseki Natsume
production assistant: Andrea Skotland
graphic design print: Michaël Bussaer
production: Mette Edvardsen / Athome
co-production: Dubbelspel – STUK Kunstencentrum & 30CC (Leuven), Dance Umbrella (London), Kunstenfestivaldesarts (Brussels), NEXT Arts Festival (Valenciennes, Lille, Kortrijk, Villeneuve d'Ascq), Wiener Festwochen (Vienna), Oslobiennalen First Edition 2019 – 2021 (Oslo), Museo Reina Sofia (Madrid), Dansehallerne (Copenhagen), 34th São Paulo Biennale (São Paulo), Centre chorégraphique national de Caen in Normandie (Caen), Les Laboratoires d'Aubervilliers (Aubervilliers)
supported by: Norsk Kulturråd
title: "Time has fallen asleep in the afternoon sunshine" is a sentence from a book by Alexander Smith appearing in Fahrenheit 451 by Ray Bradbury (1953).
www.metteedvardsen.be
www.timehasfallenasleepintheafternoonsunshine.be
---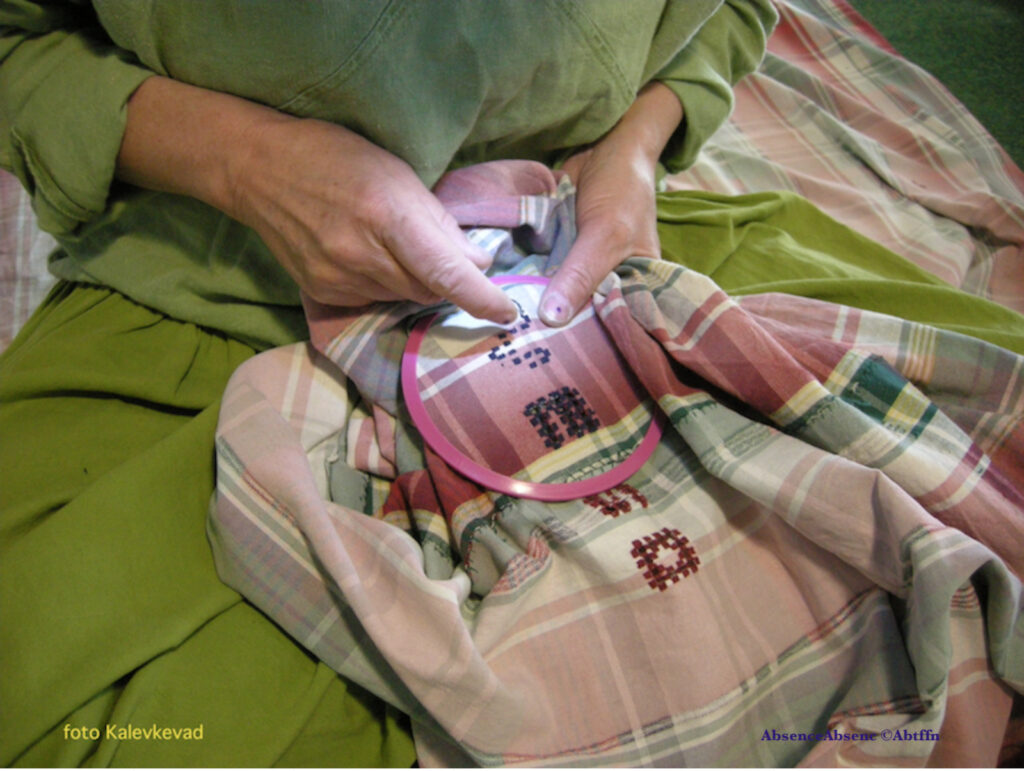 AbsenceAbsence
Agnes Btffn (NO)
Agnes Btffn embroiders in a large fabric of used curtains, a long poem, «I am blame, my name is woman» written by an anonymous afghan poet. In the act of embroidering each letter of the poem, the artist revives the picture of her grand-mother, dressed in black, who embroidered Hardanger stitches in a white linnen cloth with white linen threads. The threads Agnes uses are teared from the curtain fabric itself.
Message to the festival visitors: Take your needlework or your knitting project with you to Flørli. Agnes invites the visitors to sit together with her a while, with their own needlework.
---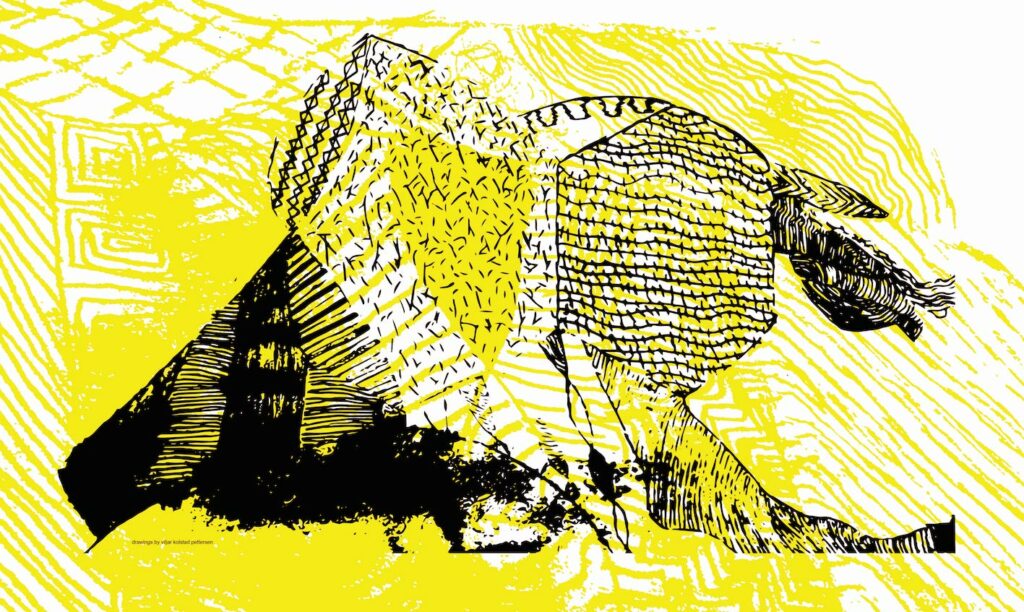 Circularity in Action II – (work in progress)
av Pål Asle Pettersen (NO)
(EN)- Quadraphonic sound installation – The result of a working process around positive and negative feedback systems. The systems are built using the Max/MSP software. The aim has been to explore how the sound's delay in the feedback loops, its frequency spectrum and strength affect the shape and direction of the sound.
(NO)- Kvadrafonisk lydinstallasjon – Resultatet av en arbeidsprosess rundt positive og negative tilbakekoblingssystemer. Systemene er bygget ved hjelp av programvaren Max/MSP. Målet har vært å utforske hvordan lydens forsinkelse i feedbacksløyfene, dens frekvensspekter og styrke påvirker lydens form og retning.
Created by: Pål Asle Pettersen
---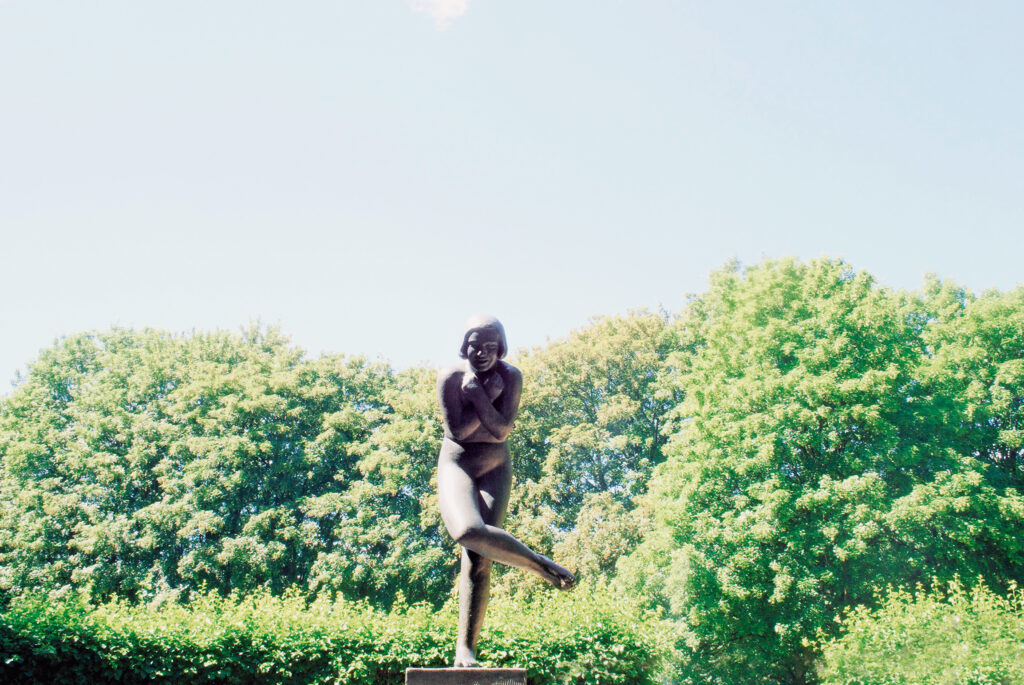 En lys sommers usigelige smerte
av Mette Edvardsen (NO)
A group of performers have selected and memorized poems from Ruth Maier's collection of poems, En lys sommers usigelige smerte (A bright summer's unspeakable pain). When meeting the audience, the performers recite the poems they have memorized, and then pass them on by oral transmission. The audience can both read (listen to) the poems, and bring them with them in their in memory (by heart) when they leave.

The project was created for the exhibition PARADE commissioned by Håkon Lillegraven and Bjørn Hatterud for the Vigeland museum in Oslo in 2022.

Background: Ruth Maier (1920-1942) was an Austrian Jewish refugee who came from Vienna to Norway during WWII. She lived in Norway for almost four years, before she was deported during the great mass arrest on November 26, 1942, when Jews were deported from the port of Oslo. She was killed in Auschwitz only a few days later. Her diaries and poems were preserved by author and poet Gunvor Hofmo, with whom she had a close friendship and love affair. The collection of poems and prose sketches A bright summer's unspeakable pain collects Ruth Maier's poems from diaries and other manuscripts, and was published after editing by author and poet Jan Erik Vold in 2012.
Ruth Maier was an art student and was the nude model for Gustav Vigeland's sculpture 'Surprised' which stands in Vigelandsparken. The sculpture was cast in bronze and was first unveiled in 2002.
CREDITS
A project by: Mette Edvardsen
With: Martin Lervik, Marit Ødegaard, and Mette Edvardsen
Supported by: Norsk Kulturråd

www.metteedvardsen.b
---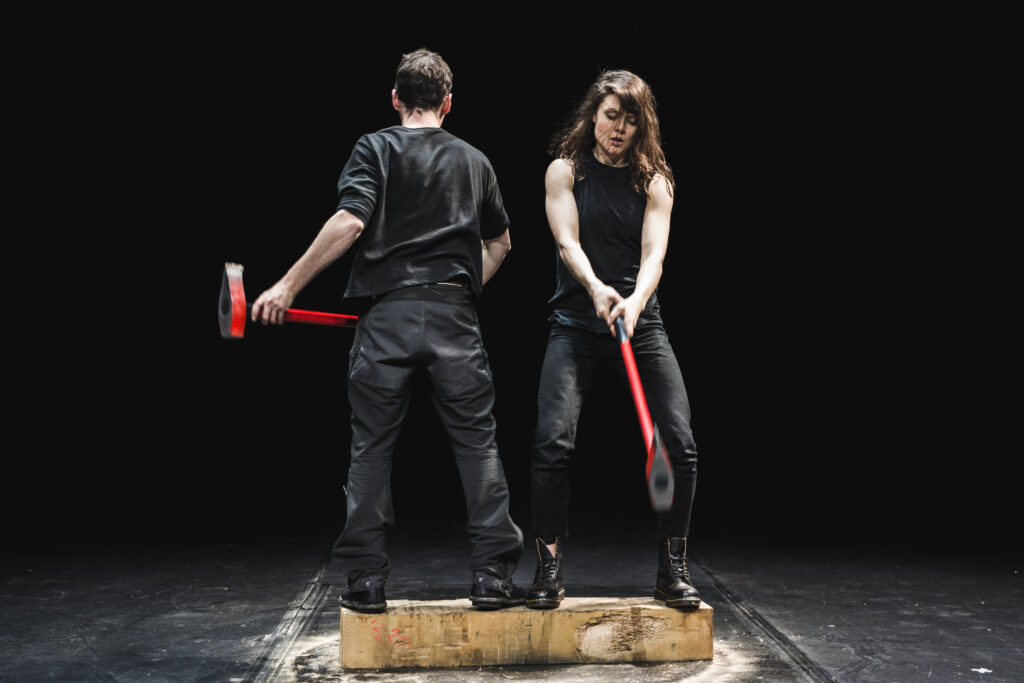 Again the Sunset av Inga Huld Hákonardóttir and Yann Leguay (IS/BE)
Again the Sunset is an experience which occupies the space between concert and performance; a haunted love song that travels through the voice to the body, to raw elements and materials, like an expressive entity without an inherent body.

Through a heavy battering gesture two humans put their bodies to work. They work to continue and continue to work for moving what needs to be moved and singing what needs to be sung about; Deceptive stones, dubious clouds and hopeless histories of love. Words circle around and around like haunting thoughts as the natural elements are met with a sculptural and sonic approach.
Creators and performers: Inga Huld Hákonardóttir and Yann Leguay
---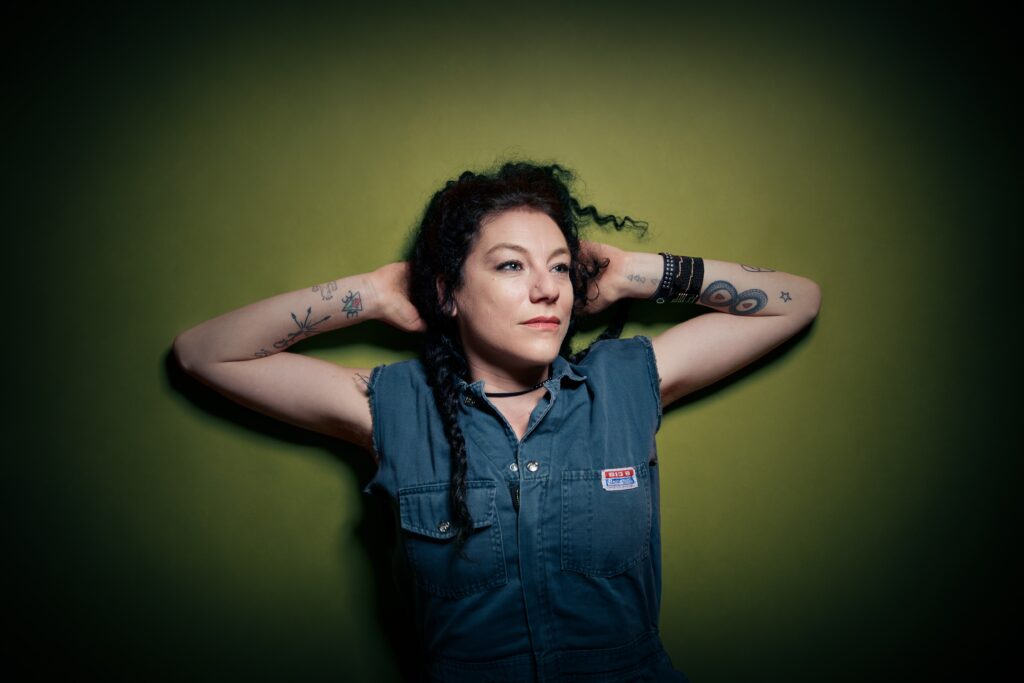 concert with Jessica Moss (CA)
Jessica Moss is a Montréal based violinist and composer. She uses amplified and processed violin and voice to create intricate works of expressive electronic, drone, experimental and postclassical Minimalism; her distinctive melodic sensibility often channels Klezmer, Balkan and Middle Eastern tropes with an ear for textural grit and timbral noise. She has released four full length albums on Constellation. After her 15-year tenure in agitprop postpunk band Thee Silver Mt. Zion, Jessica Moss began writing and performing solo work under her own name in 2014. She self-released her debut solo album Under Plastic Island, recorded with Guy Picciotto, in the fall 2015. Three acclaimed albums on the Constellation imprint followed: Pools Of Light (2017), Entanglement (2018) and Phosphenes (2021) — all three co-produced with Radwan Ghazi Moumneh (Jerusalem In My Heart, Matana Roberts, Suuns). Her fifth album Galaxy Heart will be released in the fall 2022. A Closer Listen has described Moss as an artist that "becomes her instrument and channels its harmonic power"; Loud And Quiet has called her solo music "inventive, powerful, deeply engaging, carrying real weight." Moss has performed extensively throughout North America and Europe, including appearances at Big Ears, WSO New Music, Le Guess Who?, ATP, Supersonic, Transmissions and Basilic Hudson' Soundscape and 24-HOUR DRONE festivals. Over the past two decades she has contributed to writing, arrangements and recordings by artists like Carla Bozulich, Vic Chesnutt and Big|Brave, among many others. Most recently she made the soundtrack to award-winning documentary Laila At The Bridge, composed and performed the original live score for DUST by Australian company DanceNorth, joined Feist's touring band, released a record with Roy Montgomery, performed with Matana Roberts at Le Guess Who? and Donau festivals, and played on albums by Sarah Davachi, Oiseaux-Tempete and Daniel O'Sullivan. Moss is also a founding member of the avant- Klezmer quartet Black Ox Orkestar.
---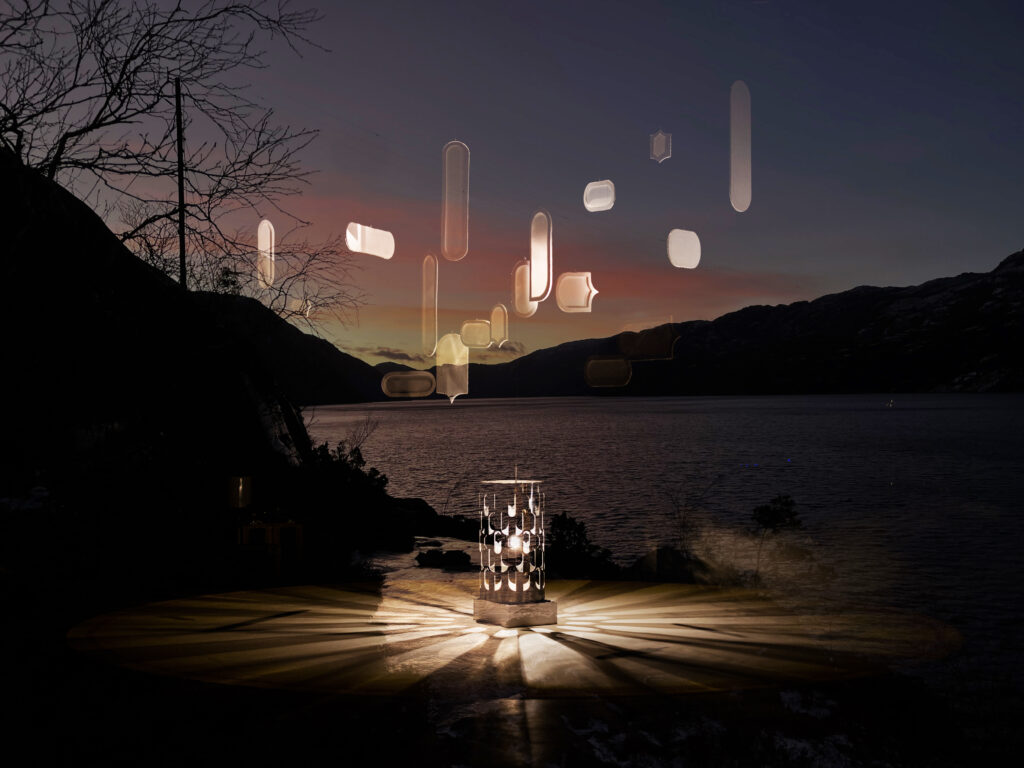 iteration (((((((((OO)))))))))  Sandsmark/Findlay with Warren (NO/US)
iteration (((((((((OO))))))))) is a continuation and derivative of the recent (donkey) project, parsing and re-imagining elements to find new connection points and emotional terrain.  Set site relational in the outdoor Flørli village landscape, sending a signal into the earth and tuning in for the reverberation that moves us forward.  
By: Marit Sandsmark and Iver Findlay with Peter Warren
Supported by: Norsk Kulturråd, Stavanger Kommune, Rogaland Fylkeskommune
---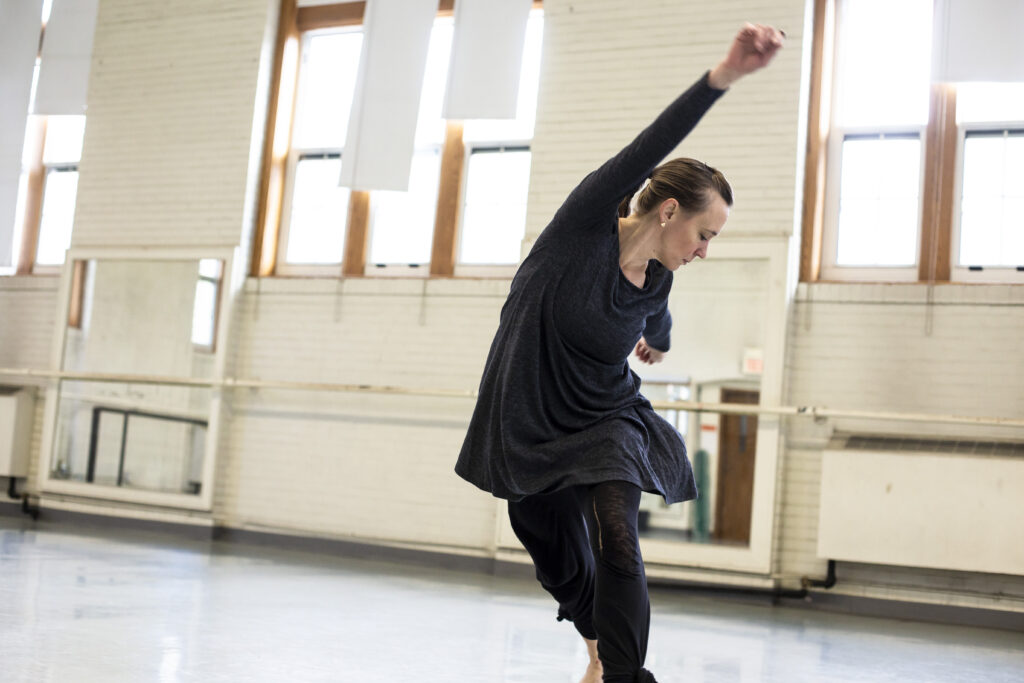 + workshop: Morning Movement med Melinda Jean Myers (US)
'Morning Movement' session will include follow-along, easy and adaptable sequences to warm the body (influenced by yoga, contemporary dance, and somatic practices) and group forms of movement improvisation/play. We will come together to prime our attention to our bodies and breath. Plenty of flow and fun, all levels of experience are welcome. Outdoors weather permitting.