Time has fallen asleep in the afternoon sunshine av Mette Edvardsen (NO) @ 13.00-16.00 (varighet 1 time per bok, 3 forskjellige bøker samtidig)
AbsenceAbsence av Agnes Btffn (NO/FR) @ 14.00-15.30 (varighet 1.5 time)
Circularity in Action II – (work in progress) av Pål Asle Pettersen (NO) @ 18.30 installation opening
Livre d'images sans images (excerpt) – av Mette Edvardsen (NO) @ 19.30-20.00 (*varighet 30 minutter)
I Have Always Liked The Sedative Effect of Flowers av Anette Gellein (NO) @ 21.00-21.30 (*varighet 0.5 timer)
---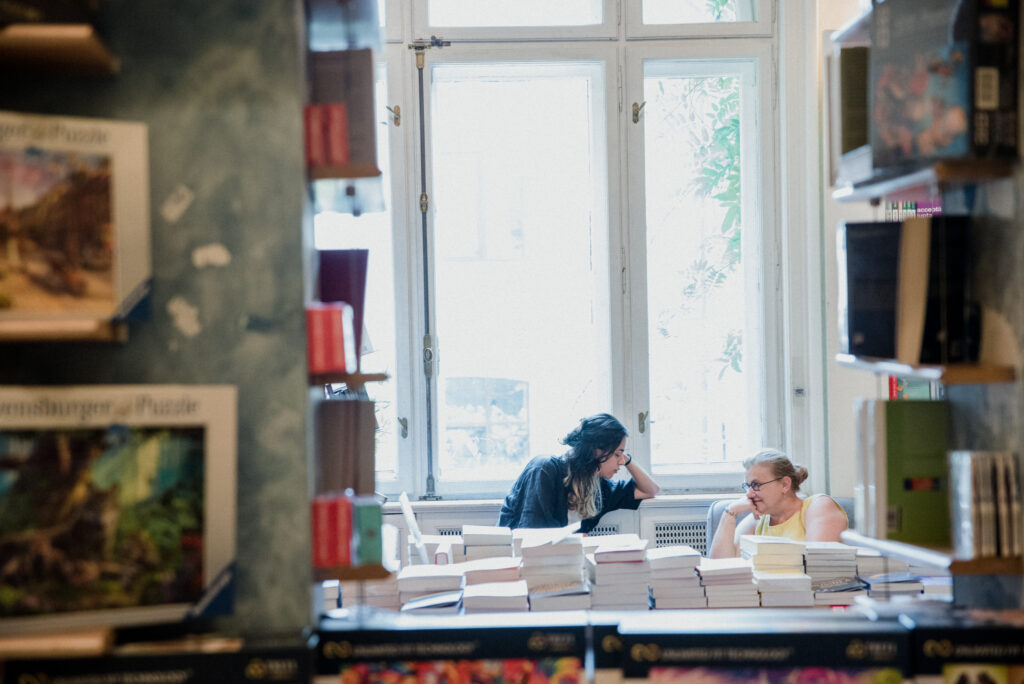 Time has fallen asleep in the afternoon sunshine
av Mette Edvardsen (NO)
For 'Time has fallen asleep in the afternoon sunshine' a group of people/ performers memorize a book of their choice. Together they form a library collection consisting of living books. The books are passing their time in a library, sitting in chairs, walking around, talking together, looking out of the window, reading in paper-books from the shelves, ready to be consulted by a visitor. The visitors of the library choose a book they would like to read, and the book brings its reader to a place or setting in the library, in the cafeteria, or for a walk outside, while reciting its content (and possibly valid interpretations).

The idea for this library of living books comes from the science fiction novel Fahrenheit 451. It is a future vision of a society where books are forbidden because they are considered dangerous, that happiness must be obtained through an absence of knowledge and individual thought. The number 451 refers to the temperature at which book paper starts to burn. As books are forbidden in this society an underground community of people learn books by heart in order to preserve them for the future.

Books are read to remember and written to forget. To memorize a book, or more poetically 'to learn a book by heart', is in a way a rewriting of that book. In the process of memorizing, the reader for a moment steps into the place of the writer, or rather he / she is becoming the book. Maybe the ability to learn a whole book by heart is relative to what book you choose, the time you invest, and perhaps your skills. But, however much or well you learn something by heart you have to keep practicing it otherwise you will forget it again. Perhaps by the time you reach the end you will have forgotten the beginning. Learning a book by heart is an ongoing activity and doing. There is nothing final or material to achieve, the practice of learning a book by heart is a continuous process of remembering and forgetting.
CREDITS
concept: Mette Edvardsen
with: Marit Ødegaard, Mette Edvardsen, Siriol Joyner
books at Flørli: Beloved – Toni Morrison, Elskeren – Marguerite Duras, I Am a Cat – Sōseki Natsume
production assistant: Andrea Skotland
graphic design print: Michaël Bussaer
production: Mette Edvardsen / Athome
co-production: Dubbelspel – STUK Kunstencentrum & 30CC (Leuven), Dance Umbrella (London), Kunstenfestivaldesarts (Brussels), NEXT Arts Festival (Valenciennes, Lille, Kortrijk, Villeneuve d'Ascq), Wiener Festwochen (Vienna), Oslobiennalen First Edition 2019 – 2021 (Oslo), Museo Reina Sofia (Madrid), Dansehallerne (Copenhagen), 34th São Paulo Biennale (São Paulo), Centre chorégraphique national de Caen in Normandie (Caen), Les Laboratoires d'Aubervilliers (Aubervilliers)
supported by: Norsk Kulturråd
title: "Time has fallen asleep in the afternoon sunshine" is a sentence from a book by Alexander Smith appearing in Fahrenheit 451 by Ray Bradbury (1953).
www.metteedvardsen.be
www.timehasfallenasleepintheafternoonsunshine.be
---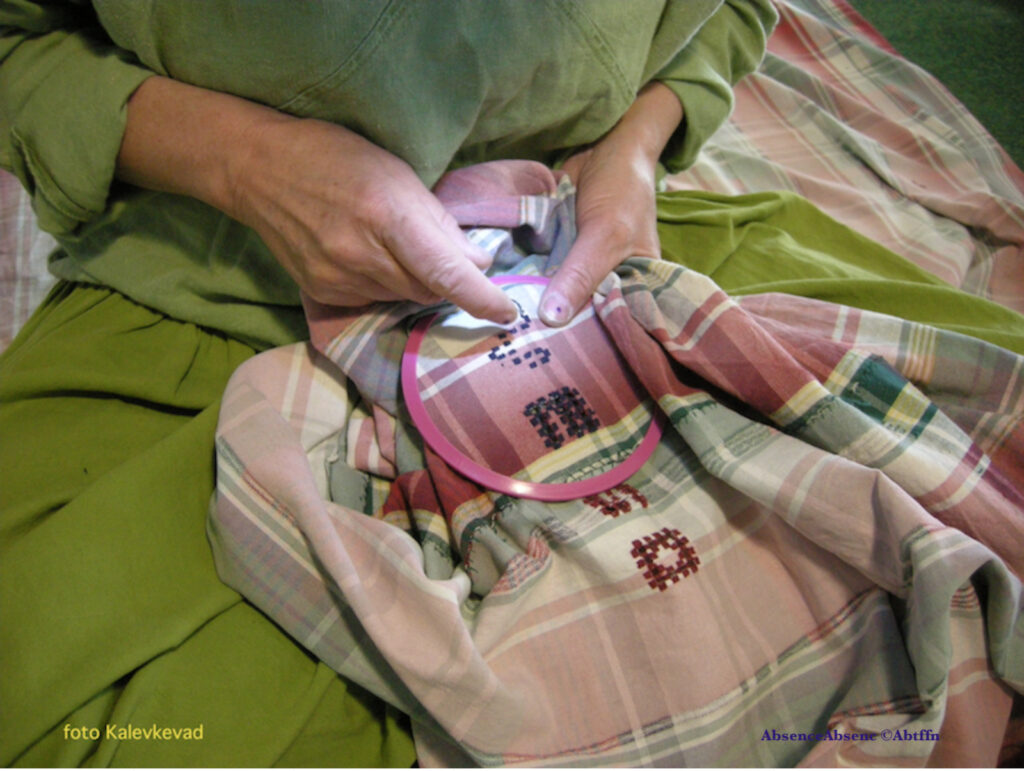 AbsenceAbsence
Agnes Btffn (NO)
Agnes Btffn embroiders in a large fabric of used curtains, a long poem, «I am blame, my name is woman» written by an anonymous afghan poet. In the act of embroidering each letter of the poem, the artist revives the picture of her grand-mother, dressed in black, who embroidered Hardanger stitches in a white linnen cloth with white linen threads. The threads Agnes uses are teared from the curtain fabric itself.
Message to the festival visitors: Take your needlework or your knitting project with you to Flørli. Agnes invites the visitors to sit together with her a while, with their own needlework.
---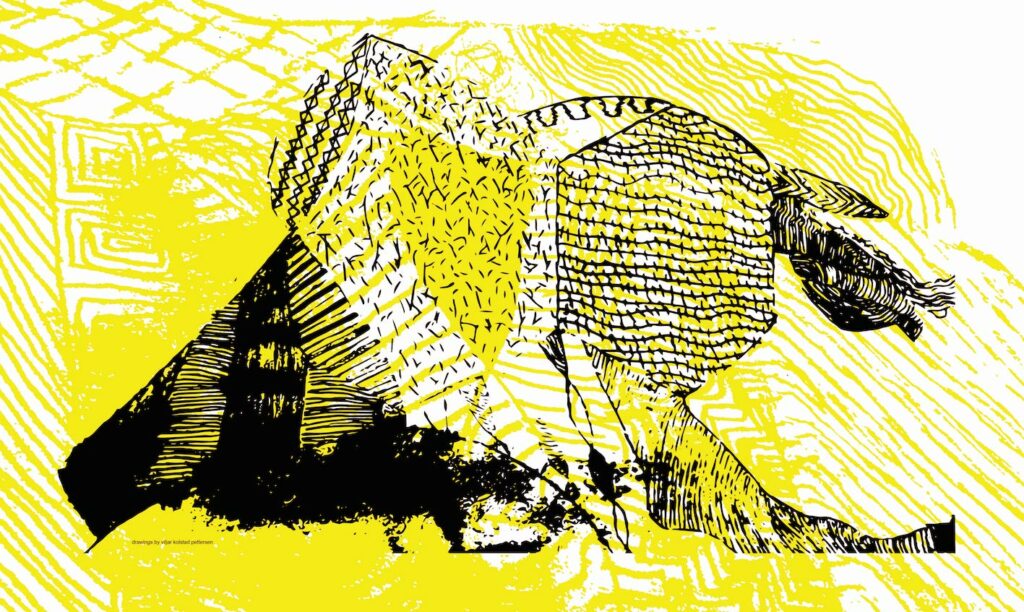 Circularity in Action II – (work in progress)
av Pål Asle Pettersen (NO)
(EN)- Quadraphonic sound installation – The result of a working process around positive and negative feedback systems. The systems are built using the Max/MSP software. The aim has been to explore how the sound's delay in the feedback loops, its frequency spectrum and strength affect the shape and direction of the sound.
(NO)- Kvadrafonisk lydinstallasjon – Resultatet av en arbeidsprosess rundt positive og negative tilbakekoblingssystemer. Systemene er bygget ved hjelp av programvaren Max/MSP. Målet har vært å utforske hvordan lydens forsinkelse i feedbacksløyfene, dens frekvensspekter og styrke påvirker lydens form og retning.
Created by Pål Asle Pettersen
---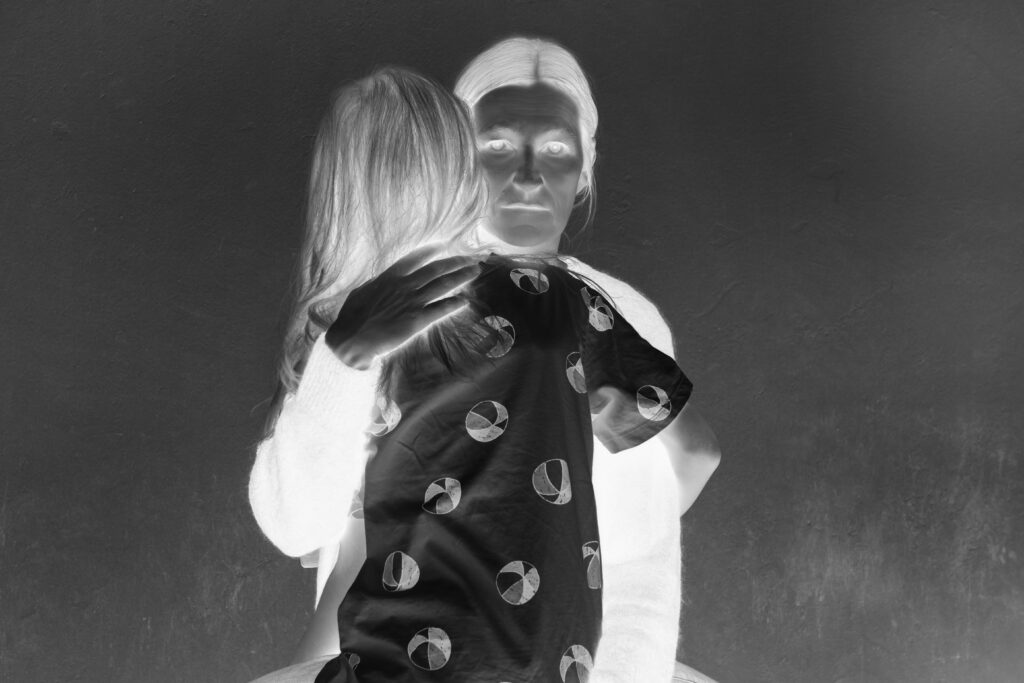 Livre d'images sans images (excerpt)
av Mette Edvardsen
LIVRE D'IMAGES SANS IMAGES by Mette Edvardsen & Iben Edvardsen borrows its title from a book by H.C. Andersen, also referred to as The Moon Chronicler. The book follows a conversation between a painter and the Moon, where the Moon describes to the painter what she sees on her journey around the world every evening, telling the painter to paint what she describes. "This conversation, as in the now obsolete meaning of the word ('a place where one lives or dwells'), was the starting point for our work. Using the weather report as dramaturgy, ('the moon did not show up every evening, sometimes a cloud came in between'), we have created and collected materials from our conversations in the form of recordings, text, voice, drawings, references, found images, loose connections, inspirations and imaginations, in the order they came to us. They are at the same time sources and traces, material and support for new imaginations or events to come." The work consists of three different media: vinyl, paper and live performance.
CREDITS
with & by: Mette Edvardsen and Iben Edvardsen
light: Bruno Pocheron
technical support: Agnar Ribe
graphic design: Michaël Bussaer
production: Mette Edvardsen/Athome
residency support: Black Box teater (Oslo)
co-production: Kaaitheater (Brussels), BUDA (Kortrijk), Black Box teater (Oslo), centre chorégraphique national de Caen in Normandie (Caen)
supported by: Norsk Kulturråd
LP released by Xing (Bologna) for XONG collection
www.metteedvardsen.be
www.timehasfallenasleepintheafternoonsunshine.be
---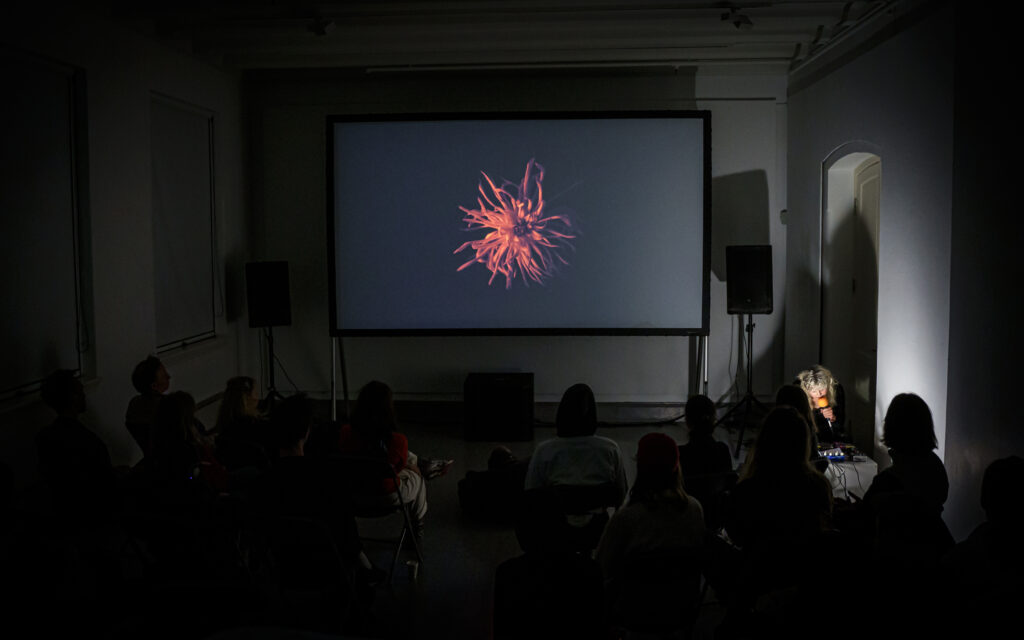 I Have Always Liked The Sedative Effect of Flowers
av Anette Gellein (NO)
I Have Always Liked The Sedative Effect of Flowers is a text-based performance with sound and video. This performance builds on elements from my ongoing film project, as well as research into vocal and pedal effects. The performance is inspired by the horror genre and talks about pollution, water, images and loving something that hates you.
Created and performed by Anette Gellein